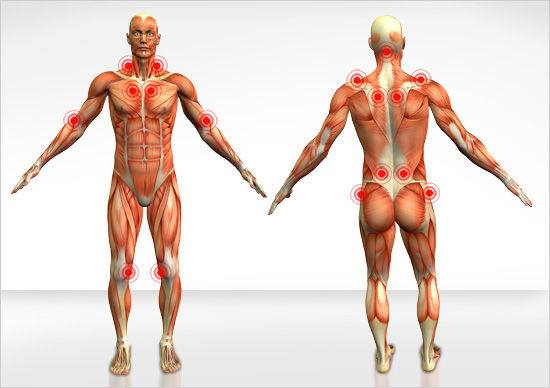 La Fibromialgia es una condición que se presenta con frecuencia en consultas Quiroprácticas.
Lo que debe saber la persona diagnosticada con esta enfermedad es que La Quiropráctica le puede ayudar mucho, y con la supervisión de su médico de cabecera el paciente puede disminuir la cantidad de medicamento que consume.
Los cuidados Quiroprácticos ayudan sensiblemente a disminuir el dolor y el cansancio crónico porque el paciente empieza a dormir mejor. Simplemente el hecho de poder obtener descanso recuperador permite que el cuerpo se regenere, y la mejoría en muchos casos es rápida
Con el diagnóstico de fibromialgia el paciente se ve destinado a una vida que cada vez empeora y a tener que tomar medicamento a diario que con el tiempo le pasan factura a los órganos.
La fibromialgia es un trastorno de auto inmunidad, y esto quiere decir que el cuerpo de alguna manera se está peleando contra su propio tejido. Que su cuerpo se pelee y monte defensas contra su propio tejido es disfunción. ¿Y si no se corrige la disfunción cómo puede usted sanar?
El Quiropráctico corrige la disfunción en el cuerpo para que el paciente mejore y pueda disminuir el consumo de fármacos.
pacientes con fibromialgia benefician mucho de tratamientos de quiropractica.Tres cosas que se experimentan clínicamente son la reducción de los dolores y de los puntos dolorosos que son característicos de la fibromialgia, y que la persona comienza a dormir mejor. Al poder descansar, el cuerpo empieza a normalizarse. Al poder dormir de forma recuperadora, se ve un aumento en la mejoría del cansancio crónico que también caracteriza la fibromialgia.
Si usted sufre de fibromialgia, la Quiropráctica es altamente recomendada, y le dará un gran beneficio.
En muchos países el médico le recomienda la Quiropráctica a pacientes con fibromialgia
Todo caso de fibromialgia que yo he tratado en mi consulta ha mejorado notablemente.
Haga una cita para poder orientarle sobre su caso. Lo que le espera es una vida mejor.
——————————————————————————–
J Manipulative Physiol Ther. 1997 Jul-Aug;20(6):389-99.
The effectiveness of chiropractic management of fibromyalgia patients: a pilot study.
Blunt KL, Rajwani MH, Guerriero RC.
Source
Canadian Memorial Chiropractic College, Toronto, Ontario, Canada.
Abstract
OBJECTIVE:
To demonstrate the effectiveness of chiropractic management for fibromyalgia patients using reported pain levels, cervical and lumbar ranges of motion, strength, flexibility, tender points, myalgic score and perceived functional ability as outcome measures.
DESIGN:
A. Preliminary randomized control crossover trial. B. Before and after design.
PATIENTS:
Twenty-one rheumatology patients (25-70 yr). CHIROPRACTIC INTERVENTIONS: Treatment consisted of 4 wk of spinal manipulation, soft tissue therapy and passive stretching at the chiropractors' discretion. CONTROL INTERVENTION: Chiropractic management withheld for 4 wk with continuation of prescribed medication.
MAIN OUTCOME MEASURES:
Changes in scores on the Oswestry Pain Disability Index, Neck Disability Index, Visual Analogue Scale, straight leg raise and lumbar and cervical ranges of motion were observed.
RESULTS:
Chiropractic management improved patients' cervical and lumbar ranges of motion, straight leg raise and reported pain levels. These changes were judged to be clinically important within the confines of our sample only.
CONCLUSIONS:
Further study with a sample size of 81 (for 80% power at alpha < or = .05) is recommended to determine if these findings are generalizable to the target population of fibromyalgia suffers.
—————————————————————————–
Chiropractic Management of Fibromyalgia Syndrome: A Systematic Review of the Literature
Michael Schneider, DC, PhD
Corresponding Author Information
email address
, Howard Vernon, DC, PhD
, Gordon Ko, MD, Gordon Lawson, MSc, DC, Jerome Perera
Received 29 April 2008; received in revised form 10 July 2008; accepted 11 August 2008.
Abstract
Objective
Fibromyalgia syndrome (FMS) is one of the most commonly diagnosed nonarticular soft tissue conditions in all fields of musculoskeletal medicine, including chiropractic. The purpose of this study was to perform a comprehensive review of the literature for the most commonly used treatment procedures in chiropractic for FMS and to provide evidence ratings for these procedures. The emphasis of this literature review was on conservative and nonpharmaceutical therapies.
Methods
The Scientific Commission of the Council on Chiropractic Guidelines and Practice Parameters (CCGPP) was charged with developing literature syntheses, organized by anatomical region, to evaluate and report on the evidence base for chiropractic care. This article is the outcome of this charge. As part of the CCGPP process, preliminary drafts of these articles were posted on the CCGPP Web site www.ccgpp.org (2006-8) to allow for an open process and the broadest possible mechanism for stakeholder input. Online comprehensive literature searches were performed of the following databases: Cochrane Database of Systematic Reviews; National Guidelines Clearinghouse; Cochrane Central Register of Controlled Trials; Manual, Alternative, and Natural Therapy Index System; Index to Chiropractic Literature, Cumulative Index to Nursing and Allied Health Literature; Allied and Complementary Medicine; and PubMed up to June 2006.
Results
Our search yielded the following results: 8 systematic reviews, 3 meta-analyses, 5 published guidelines, and 1 consensus document. Our direct search of the databases for additional randomized trials did not find any chiropractic randomized clinical trials that were not already included in one or more of the systematic reviews/guidelines. The review of the Manual, Alternative, and Natural Therapy Index System and Index to Chiropractic Literature databases yielded an additional 38 articles regarding various nonpharmacologic therapies such as chiropractic, acupuncture, nutritional/herbal supplements, massage, etc. Review of these articles resulted in the following recommendations regarding nonpharmaceutical treatments of FMS. Strong evidence supports aerobic exercise and cognitive behavioral therapy. Moderate evidence supports massage, muscle strength training, acupuncture, and spa therapy (balneotherapy). Limited evidence supports spinal manipulation, movement/body awareness, vitamins, herbs, and dietary modification.
Conclusions
Several nonpharmacologic treatments and manual-type therapies have acceptable evidentiary support in the treatment of FMS.